Using the SD button to change between fractions, decimals and surds (radicals)
This video shows you how you can change between a fraction and a decimal display on your Casio calculator. In the video, the example of one tenth is used to switch between the fraction display ⅒ and the decimal equivalent, 0.1. You can the use the SD button to scroll between a fraction and a decimal.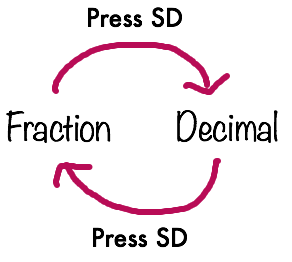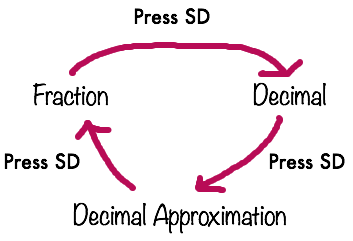 The next example is one third. If you use SD to switch to a decimal, you get a recurring decimal in the first instance. This is 0.3 with a dot above the recurring part, in this case the 3. On some models, particularly the US model of this calculator, the 300ES Plus, have a line above the recurrence instead of a dot. Press SD again and you get a full calculator display decimal approximation.
You can change surds or radicals to decimals as well. If you input a surd such as √5 and press equals, the calculator will repeat that surd back to you. This is beacuase it presents the exact answer in the first instance. If you press SD then you get a full calculator display decimal approximation. The calculator also automatically simplifies surds. For example...
√20 = √4 x √5 = 2 x √5 = 2√5
The calculator will do this simplification automatically and then you can press SD to get a decimal answer. The calculator also gives exact answers involving π in the first instance. You need to press SD if you would like a decimal approximation that you can round.
You might notice in the video I sometimes refer to a decimal approximation. When you have an irrational decimal number (a decimal number that doesn't end), the number will be rounded to the full calculator display. This will only ever be an approximation, but two about 9 decimal places, so this is usually accurate enough for most calculations you may encounter at GCSE or A level maths.